Your Giving Day Champion Guide

---
It's time to share the love you have for your favorite program or initiative at Maryland. We want to make it super simple for you to build support for the parts of UMD you care the most about on Giving Day. One of the best ways to do this is to become a Giving Day Champion. 
Be a Sock Star!
As an extra incentive, every Champion* who receives donations from 15 or more donors through their personal giving link will receive an exclusive pair of Testudo socks. 
Champion Fundraising is as easy as...
1
Sign Up
Show your favorite program or initiative on campus that you're rooting for them by signing up to be a Giving Day Champion & raising funds on their behalf.
2
Tell Your Story
Use your Fundraiser Dashboard to customize your page with images, text, and video.
3
Spread the Word
Share your fundraising page with your personal network to promote Giving Day.
---
Giving Day Champion Basics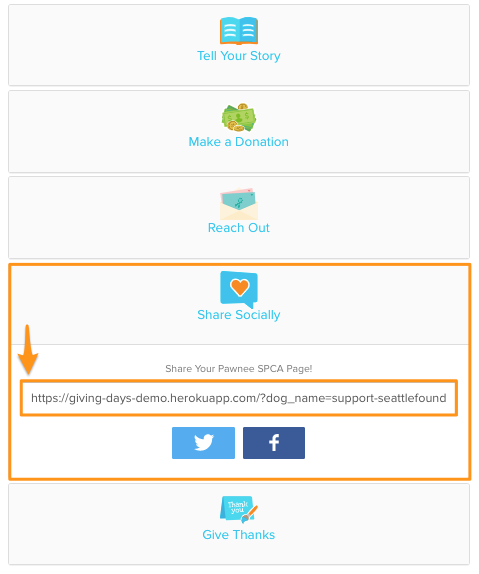 How do I become a Giving Day Champion?
If you weren't invited to fundraise for a specific fund, you can still sign up! Just search for your favorite fund, view their profile, and click the Fundraise button.
What link do I share?
You'll want to share the link created for your fundraising page found in your Fundraising Dashboard. Don't forget to use #GivingDayUMD in your posts and every time you share your custom link!
You can also share the fund's main link, and your supporters will still be able to donate to your specific page!
How do I get the word out?
To get the word out about #GivingDayUMD, you'll want to communicate with your contacts through email messages, social media posts, and word of mouth. Check out some of the sample content below for ideas of what to post and when! 


What am I Signing Up for?
As a Giving Day Champion, you'll help get the word out about Maryland's Giving Day - letting your network know about your fundraising page and the program that you are fundraising for!
You should set a personal fundraising goal to let your friends and family know what you plan to raise on Giving Day.
Most importantly, you should have fun with your fundraising efforts and work to share your enthusiasm for the program you are helping to support. Create a fun video or colorful, passionate thank you message. These small gestures can go a long way for your fundraising efforts!
How do I keep track of my success?
Your fundraising dashboard will show you the number of donors who gave to your fund through your link. To see where you rank among all Giving Day Champions, check out the leaderboards. 
Other questions? 
We have scheduled a handful of live Champion training sessions to help you troubleshoot. Have questions before then? Email Diana at dforbus@umd.edu. 
Register for our Giving Day Champions Training by clicking on the date below



January 25 at 4:00 PM
January 26 at 6:00 PM
February 6 at 7:00 PM
February 20 at 3:30 PM
February 24 at 10:00 AM
March 2 at 5:30 PM
March 3 at 5:00 PM

If you cannot make one of the dates above, please let us know if you would like a copy of the recording or slides. 



If you're at the top of our Champions leaderboard at the end of the day, you could win an additional donation for your fund! The top 5 champion pages will each receive a portion of a prize for the fund they're supporting. 


*In instances where Champion pages are set up by more than one person, only one pair of socks will be provided. 
Giving Day Champion Communication Guides
---
Helpful Resources